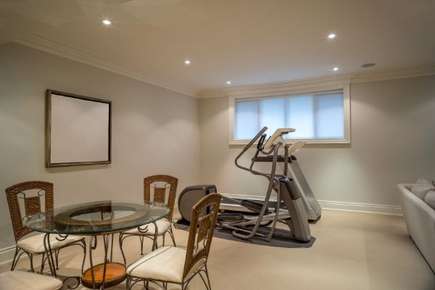 A basement is a place in many homes where families congregate together as one. Basement renovation is a great way to incorporate something for everyone in the family. Whether it is a series of games, electronics, or areas for kids, remodeling the basement can be fun and add value in the long run.
Here are 10 ideas to give you inspiration for remodeling and renovating your own basement. Many of these ideas can be done yourself, while some might require professional assistance.
Game Room
Turn your basement into a complete game room that is complete with all of the family's favorites, such as air hockey, pinball machines, ping pong, and shuffleboard. A game room can by everyone and is a great place to have a party.
Media Center
Add a large screen television, DVD players, stereo system, speakers, and a Blu-Ray player for the entire family to enjoy. Incorporate comfortable furniture like plush sofas, tables to place drinks and food, and extra seating for guests.
Themes
Plan a main theme for the basement. If you like the great outdoors, decorate with earth-toned colors, plants, and appropriate artwork which depict your favorite animals. If you like boating, think nautical, or if you like a certain country, add accessories that remind you of your favorite destination.
Workshop
If you like woodworking or have a certain craft or hobby, add a special area in the basement where you can work on related projects. Whether it is a cozy sewing room or a place for scrapbooking, go ahead and add tables, chairs, worktables, shelving for materials, and a closet for equipment.
Kids' Section
Section-off a portion of the basement for the kids to use so that they won't bother you when you are enjoying the basement. Be sure there is plenty of space for their favorite toys and games. Create a place where they can do what they like to do best, be it playing dolls or space invaders.
Kitchen
Add a kitchen area to your basement, complete with a microwave, oven, stove, sink, and refrigerator. Build a pantry to store snacks and food to prepare an entire family meal.
Wine Cellar
If you are a wine aficionado, build in a wine cellar to keep your favorite stock always on hand and refrigerated appropriately.
Spa
Some basements have enough space for a Jacuzzi or whirlpool.
Steam Room
A sauna or steam room is a great way to relax and can add value to a home. Many home improvement stores or pool and spa stores are equipped to build either a steam room or a sauna.
Beauty Area
Turn your basement into a health spa that is complete with exercise equipment, massage tables, shower stalls, as well as a vanity area to do hair and make-up.